Did you know that there are 
3.5 billion searches
 performed every day on Google? That means that no matter your line of work, people are searching for your business online.
The above is true even if you're a teeny tiny business.
Every month, 600 potential customers search for "plumber san jose":
But even for this super specific query, there's actually a lot of competition. Look how many search results Google returns for that term.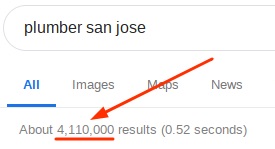 I'll tell you now: only a handful of those ~4.1m businesses are even visible. The rest are tucked away in the safest spot for hiding a dead body—the second page of Google, and beyond.
What makes the difference between total obscurity and ranking for a keyword that sends you customers on autopilot?
SEO. Search engine optimization. The process of proving to Google that your page is the best, most relevant result for a particular query.
You see:
Choosing just one page of results from 4 million options is a tough job for any machine, even Google.
To decide, it looks at factors like the words you use in your content, your content's structure, and where else it is referenced on the web.
Nail these factors, and you've won a constant organic source of leads courtesy of the world's largest search engine.
5 reasons you need 
SEO

 to survive and thrive

What exactly can you expect if you start putting effort into SEO? How can you be sure it'll be worth the investment?

I bet you've heard myths that need busting, and have a ton of questions about what's in it for your business.

Ok. Hold my can of link juice. I'm going in.
1. 90.88% of pages are invisible in Google
Last year, we studied almost a billion web pages to see how many of them are totally invisible—i.e., receive no organic search traffic whatsoever.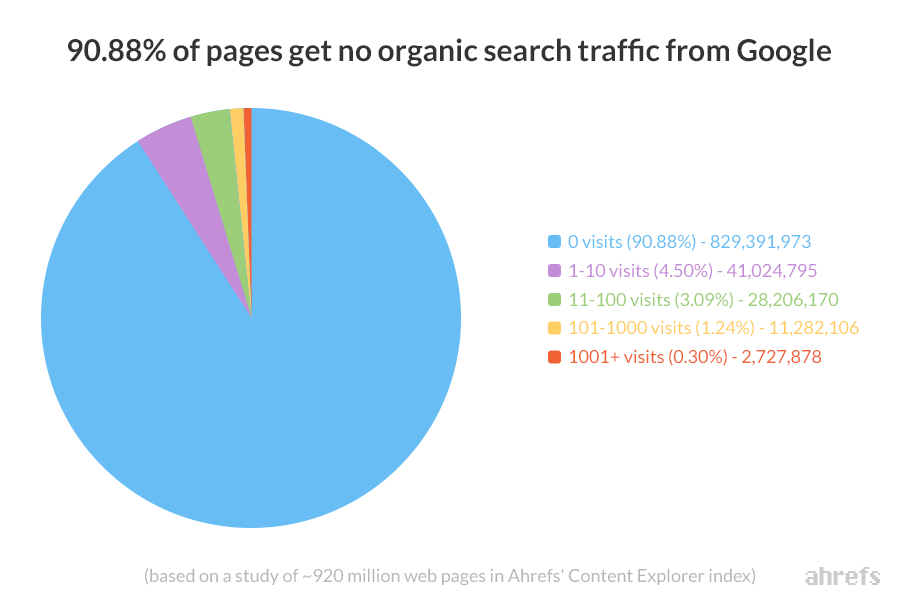 Do you want to be in that invisible ~91%?
Without SEO—a big part of which is earning links from unique websites (referring domains) to your site's content—it's likely where you'll end up.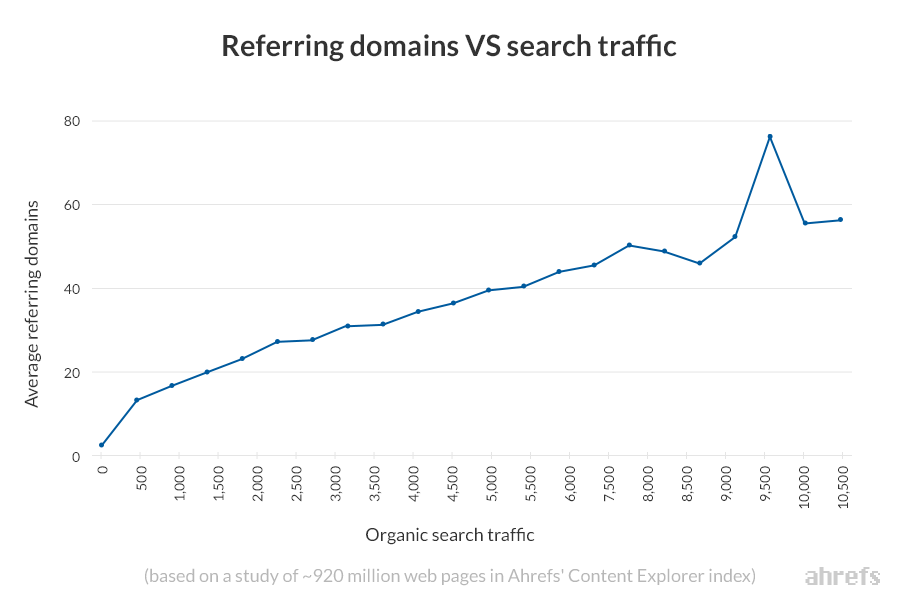 If you're sitting at the intersection of 0 and 0 in that chart, it's not where you want to stay. Organic traffic comes from your site ranking for keywords in search, and you usually need at least some referring domains to do that.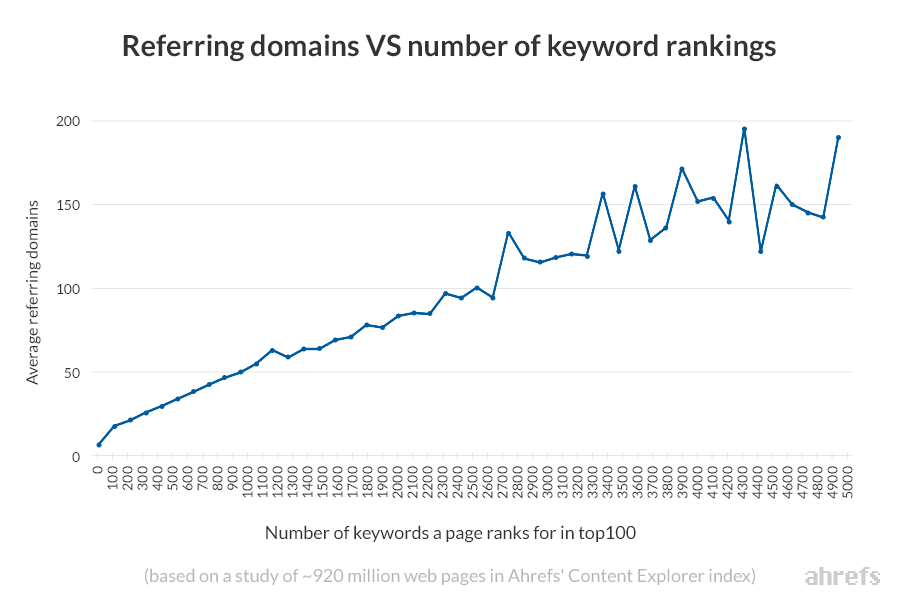 SIDENOTE.
Correlation ≠ causation. However, we know that Google's ranking algorithm relies heavily on backlinks and always has done. Read our post on PageRank to learn more.
What this shows is that SEO best practices—e.g., link building—are crucial if you want more traffic from Google.
Check out some of the posts below to learn how to build more links.
2. Organic search is the solution to the "flatline of nope"
PPC and other marketing tactics can send traffic, but as soon as you stop investing your time, effort or money in them, traffic fades to nothing.
Rand Fishkin calls this the spike of hope followed by the flatline of nope.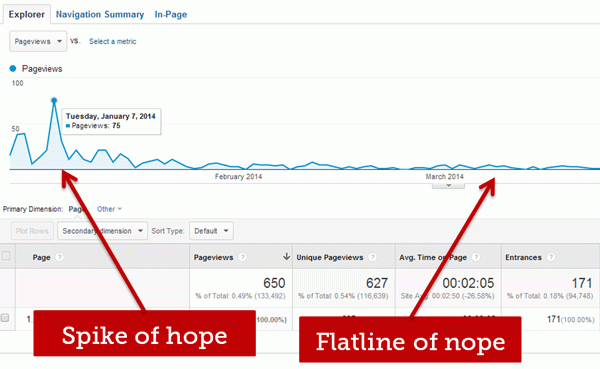 Now, take a look at traffic to our keyword research guide:

You can see that there is still a spike of hope (Two, actually. One when we originally published it, and one when we completely rewrote it in April 2017.) These are the result of us promoting the article to our audience.
But there's no flatline of nope. That's because the article ranks in Google for some super-relevant and high-volume terms.
In other words, organic traffic has staying power. It's sustainable!
But you could also say that about PPC, right? I mean you could just pay for Google Adwords ads in the long-term and continue to attract traffic from Google. True, but there's a big caveat that we'll talk about in point #5.
Back to SEO…
Organic traffic is sustainable as long as you target a topic with organic search traffic potential. I.e., a topic that people are searching for, month after month, in Google.
Let's assume that you worked hard to rank #1 for how content marketing drives sales. Well, I'm afraid you wouldn't get any organic traffic because this keyword has almost no search volume.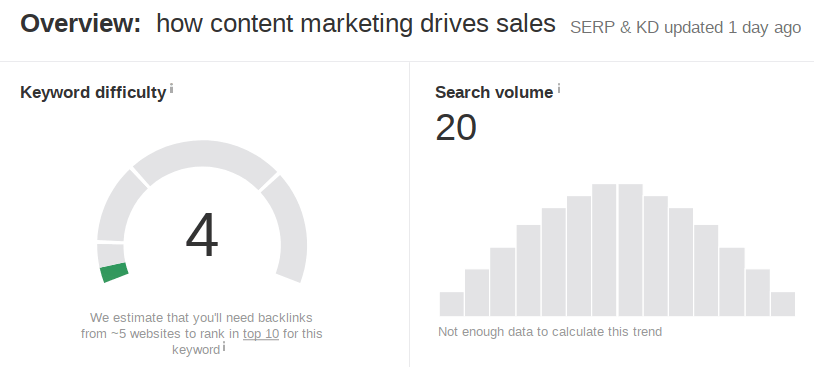 Now, I know what you might be thinking: "But don't pages rank for a lot of different keywords these days? What about the long-tail?"
Yes, that's true. In fact, we found that on average, the #1 ranking page for a keyword also ranks for ~1,000 other keywords.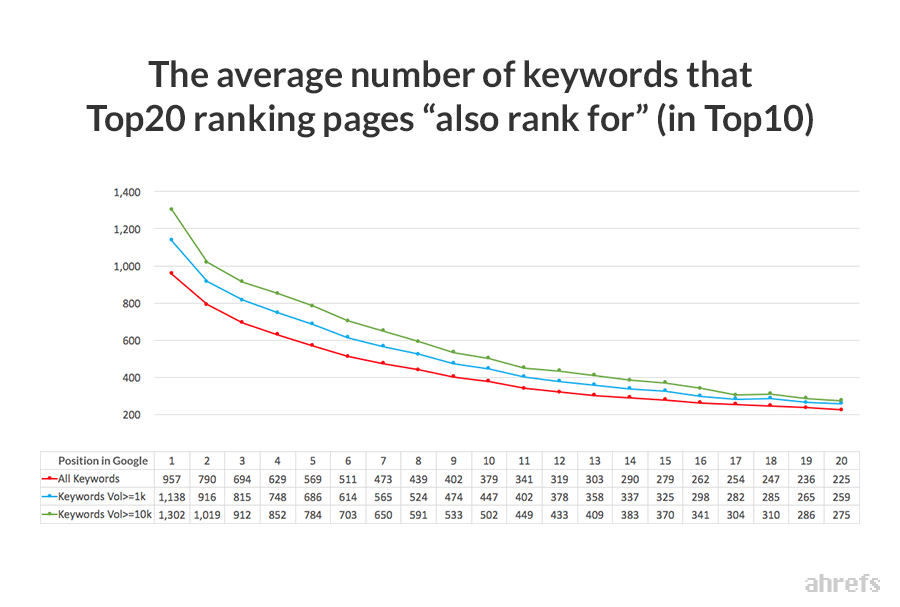 But although this is true, in this instance the topic still has almost no traffic potential. We can confirm this by scrolling down to the SERP overview.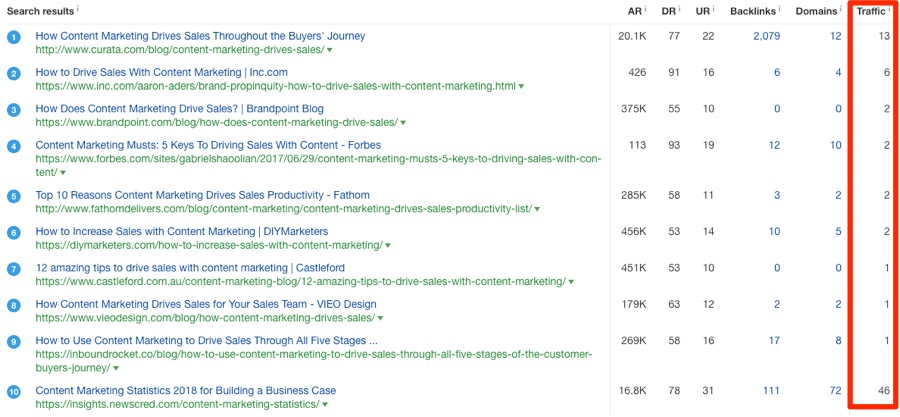 You can see that none of the top-ranking pages get much traffic or rank for many other keywords.
Contrast that with best laptop bags for women.
Not only does it have a decent search volume: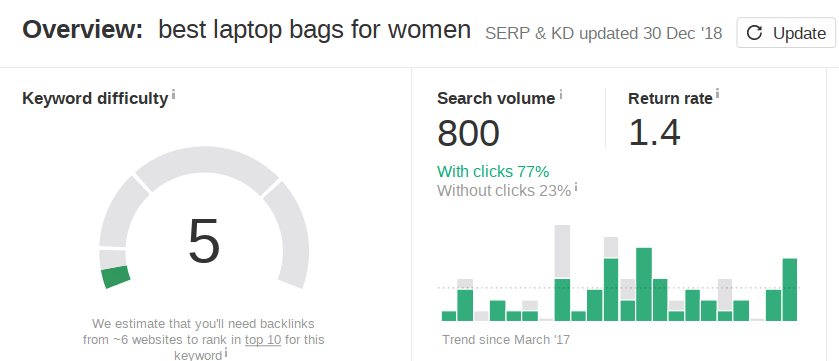 But traffic potential is even bigger. Pages that rank for this keyword get up to ~14,000 monthly views: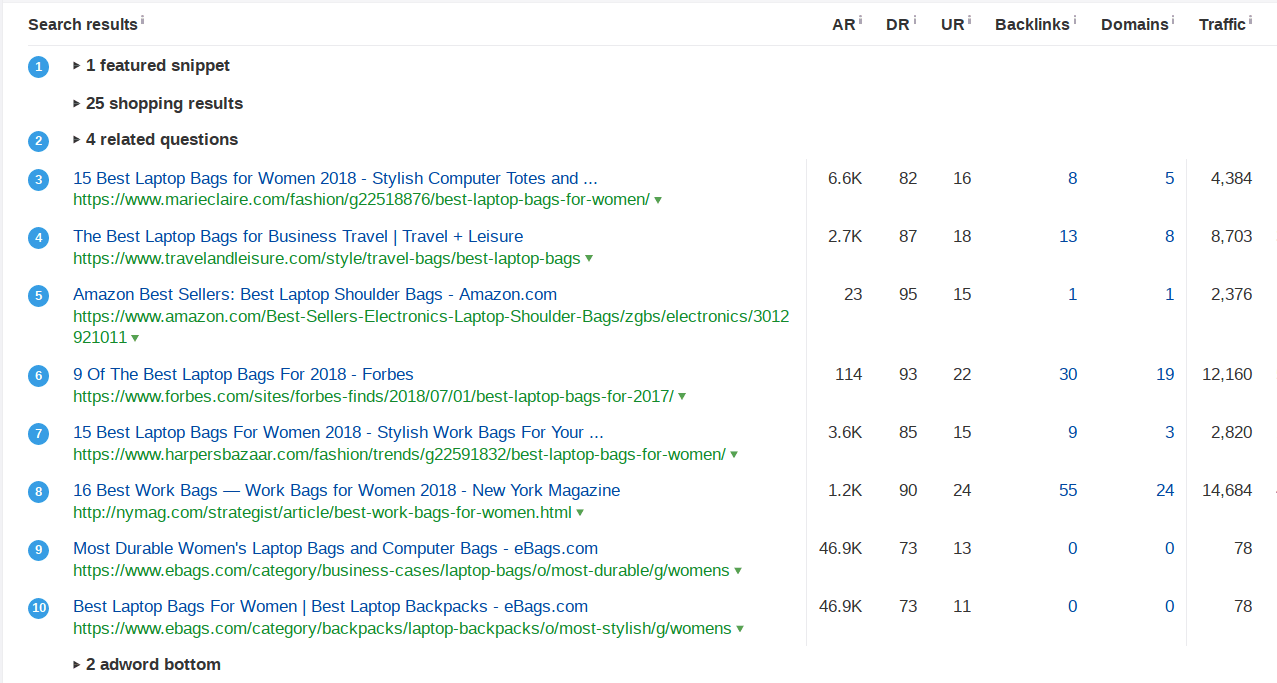 Bottom line: In order to avoid the flatnote of nope, SEO is important, which also means making sure to target a keyword with search traffic potential.
Learn more in our full guide to keyword research.
3. 
SEO

 lets you nurture and convert leads at specific stages of the buying cycle

Many of your prospects almost certainly turn to Google when they have a problem.

But the way they express it might be different depending on how aware they are of their own problem and the available solutions.

Let's say you have a product that helps businesses with outbound sales emailing. At the first stage of their journey, your now-naive prospect might be using search to figure out the scope of their problem, with terms like:
why do emails from me end up in spam
sales email subject lines
check if email was opened
A couple of weeks later, this same searcher has heard about sales automation in an article they found, and realized a product exists that can send deliverable emails, check open rates, and more!
Now they're narrowing their research. They're at a different stage of the buyer's journey, searching terms like 'best sales outreach tools', or even for brand names and specific technical features.
At each stage, there's an opportunity to write and rank content that addresses a wide array of questions and concerns:
If you can rank strategically for content that answers very specific enquiries—the kind that you know your customers have, and search for—then it's as if you magically show up every step of the way and cement your brand into your prospects' minds.
Often, these specific lifecycle-dependent queries that I'm talking about (like "compare microsoft office 365 features and g suite") don't have a whole ton of search traffic by themselves, but make up the vast majority of the kinds of searches performed online.
Check this, for instance: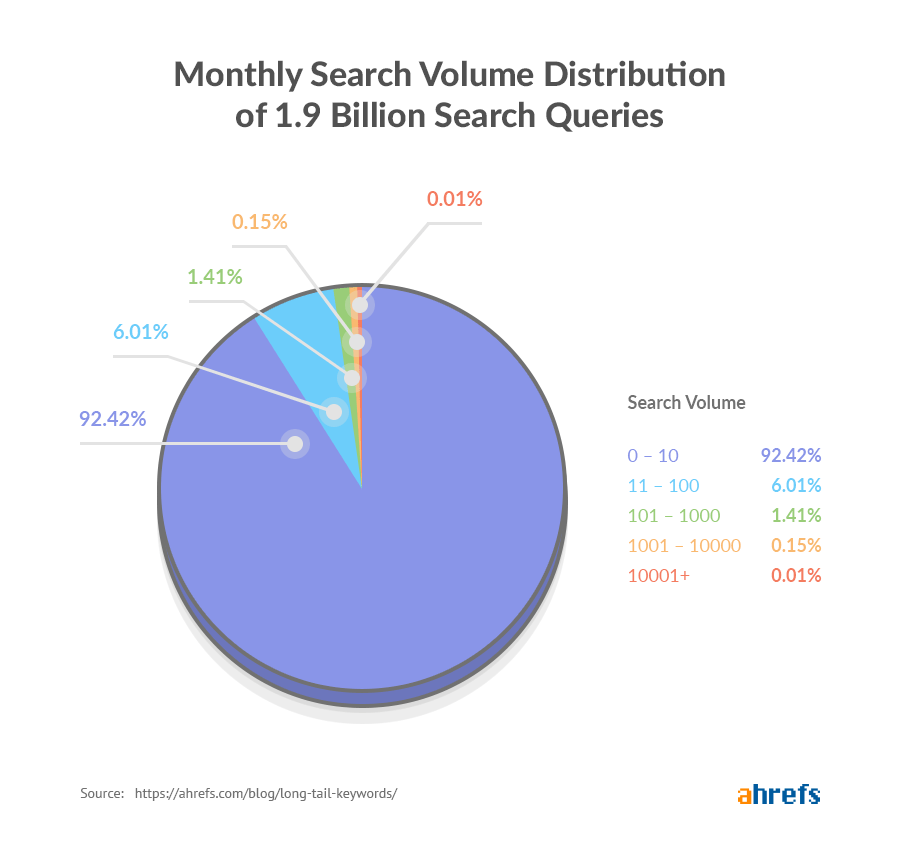 What that chart tells us is that over 92% of searches are for keywords that have a monthly search volume of less than 10. This huge slice of pie is where you can get a lot of SEO value.
Check out these super-specific queries relating to New York real estate below. Many of them represent small but high-converting pockets of leads, and reveal the desires of the market. Each one could be the target keyword for a page or post on a site from the right industry.